Usually, I look forward to January and February as very calm, boring, quiet months. I need a break from the craziness that starts in September. Actually, it starts in March or April and goes on the rest of the year. I actually like calm, boring and quiet. I've also been looking forward to this time to really get serious about KonMari. Since June I've taken over 40 garbage bags of stuff to the donation center, and then there's all the stuff I've thrown out. Marie Kondo recommends tackling this in one big project instead of a little here and there, but I literally haven't had the time. I can't exactly clear my calendar on a whim because I share it with six kids and a husband who also have commitments, and if they have commitments, then I have commitments. This year we haven't had a calm, boring or quiet start, and I haven't had the chance to do anything with it.
One of my favorite parts of living in Utah is the regular doses of spectacular sunrises and sunsets.
Adam's travel schedule is usually pretty calm in January, but he was gone at least part of every week this month. The kids had swim lessons, the girls had a recital gala, and I was feeling awful. After the craziness of Christmas I crashed again.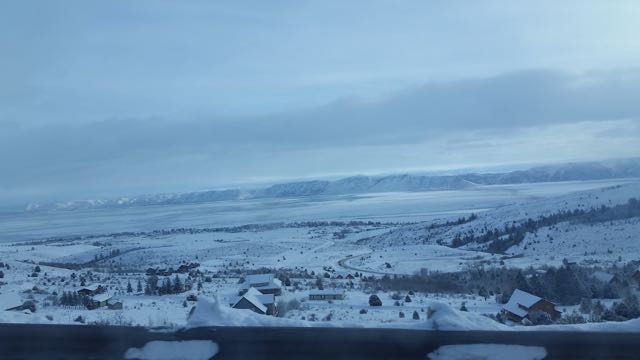 We went back to the Bear Lake house over Martin Luther King weekend to go skiing again and enjoy some family time. While we were there over Christmas, Adam and I planned out our entire year of vacations as a family and as a couple. He wanted to maximize his use of his vacation days and holidays. Instead of staying home for the three-day weekend and doing…nothing or something or chores, we planned this trip to have some fun.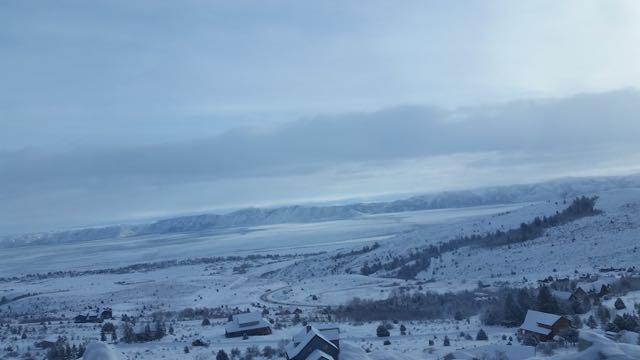 Unfortunately Adam hurt his back that week, so he didn't ski, but the kids and I did. Even though he didn't get to ski, it was still a relaxing weekend in a beautiful place with no to do list calling his name. he got to spend some special time with Georgia.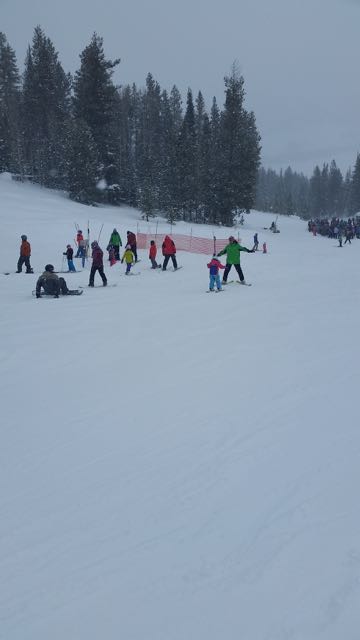 Here's Daisy in her ski lesson skiing toward her instructor in the green coat. I had actually signed all of the kids up for lessons again, but they made a mistake and put us on the following weekend. They were able to put Daisy in a class, which is good because she's never even been on a lift, but they didn't have room for the other four.
This meant that I had to go skiing with them. I am not an experienced skier. I'd only been on one trail (over, and over, and over, and over). I don't have the skills to rescue anyone. I'm not even confident in my skills to rescue myself. My kids had been on many more trails than I had and were much more adventurous. I was nervous. Make that terrified. What if something happened? The kids and I made a deal. Once off the lift they could ski to a certain point and wait for me. Then on to another point and wait for me. I always came down the mountain last in case anyone wiped out and needed me. And then in case I could actually do anything about it. Then I would be able to panic help them. Our plan worked well, and without fail, every time I came down I found a man down. I did get some ski practice, but mostly I got ski patrol practice. We did fine. I discovered the true purpose of ski poles is to fish kids out of snot banks and dig up missing skis. What really melted me though, was one of the other kids was always on the way back up the hill to rescue the fallen sibling. I could always hear Brinlee, "Don't worry, I'm coming!" They often got stuck in powder on the sides of the trail.
It was a stressful two days of skiing alone with them because I was constantly worried about one of them getting hurt or stuck. On the very last run Caisen turned down a different trail. I stopped at the top and spent a couple of minutes deciding whether I could take that hill, and decided that I couldn't. Apparently Caisen couldn't either. He wiped out, and I was powerless to help him. He wasn't hurt, so I took the trail I knew I could handle and went to the bottom to wait for him. It took about 10 minutes, but he got himself up and back on his skis and down the hill. He was so happy and triumphant! He was grinning ear to ear and so proud of himself.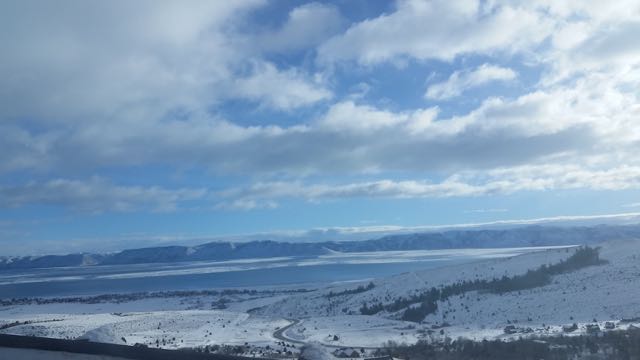 The kids convinced me to try some new trails, so I've now been down four of them.
Brinlee and her bunny ears.
Look at that gorgeous view of the lake!
One of the Bear Lake farmers has a good sense of humor. The kids got a big kick out of this giant haystack minion.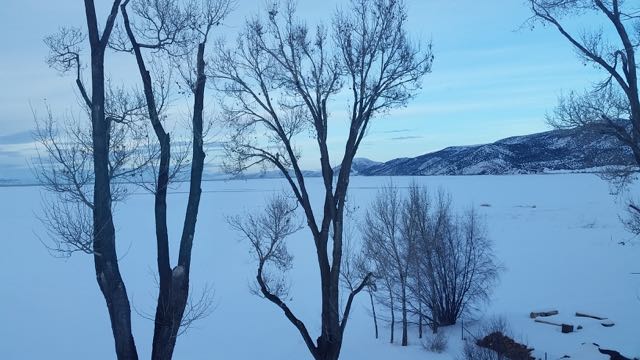 Saturday night we went out to eat at one of the only two restaurants open in the area. It was decent Mexican food.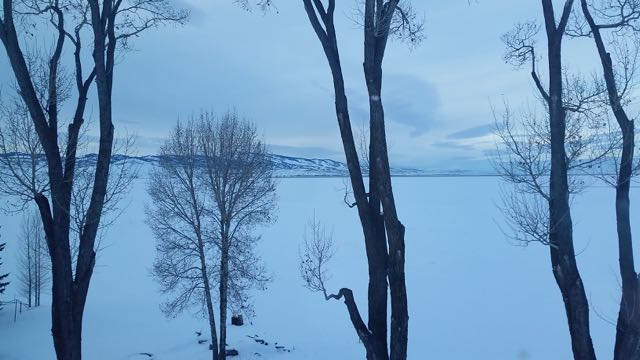 We ended up coming home a day early. On Sunday Adam found out he had to fly to Paris the next day, so we left early Monday so he could get home, pack and leave. Georgia threw up several times on the way home.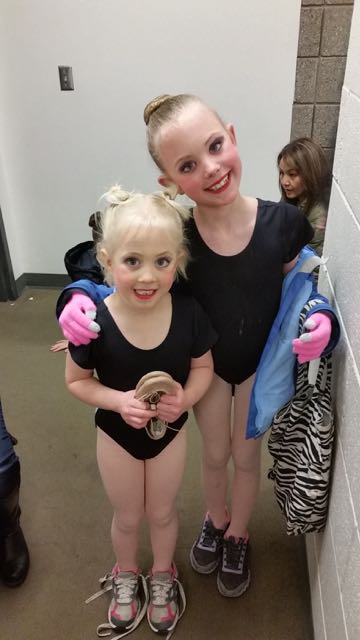 That week the girls had their dance gala. Once again the costumes were rented from the studio, no parents allowed backstage, and no pictures during the performance, so this is the only picture I have. They did a great job.
The next day Adam and I went to Palm Springs for a short getaway.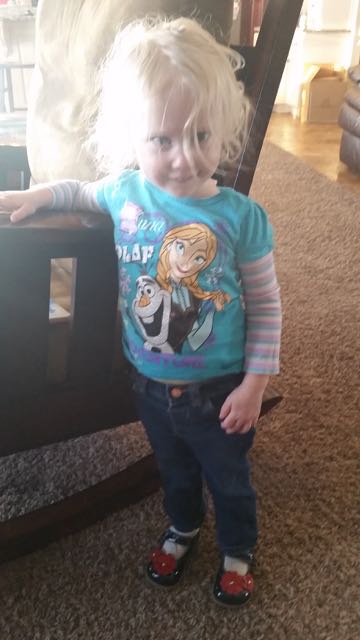 Georgia wanted a picture of her cute new shoes. I took Daisy and Georgia to look for shoes, and while I looked, they played. I called them back to me and Daisy says, "Mom, I see our cousins!" No you don't. Come try these on. "I do mom, I do!!" I walk over there and sure enough she spotted Aunt Alyssa and Enoch. She often claims to see relatives when we are out and about, but it's never been true before.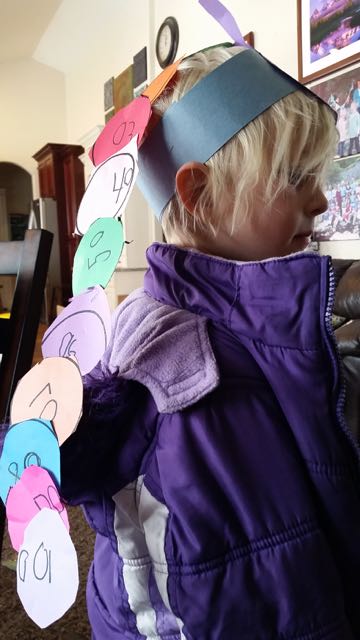 Daisy's class celebrated the 100th day of school.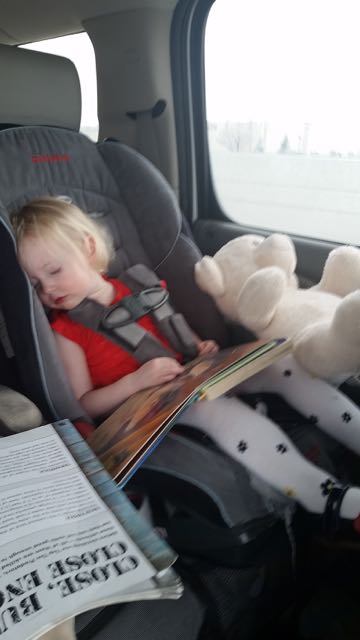 Sweet baby G asleep on the way.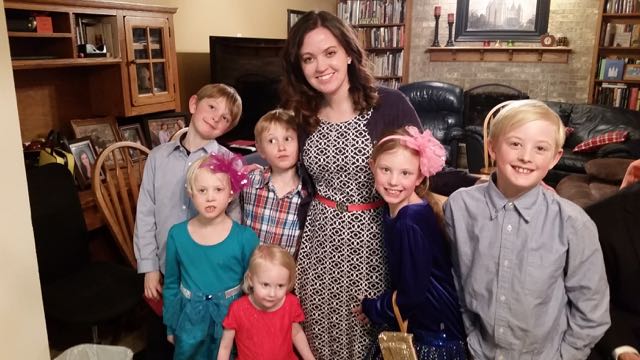 Adam's cousin Kristina left for a mission in Tampa, FL, so we went to her farewell.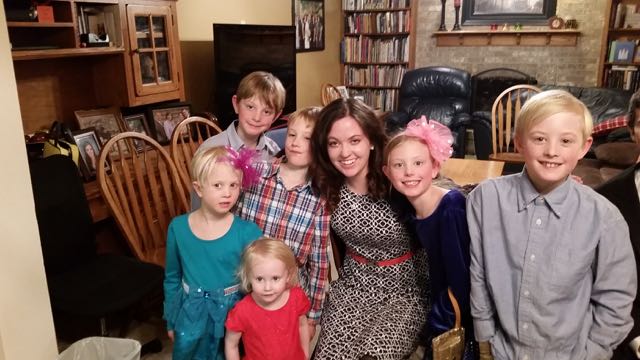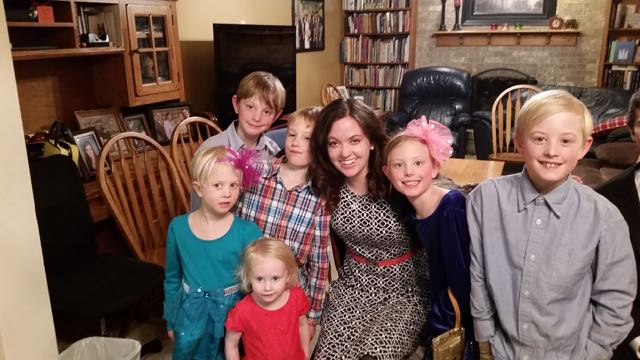 She watched our kids when we went to Thailand, so she has a special connection with our family.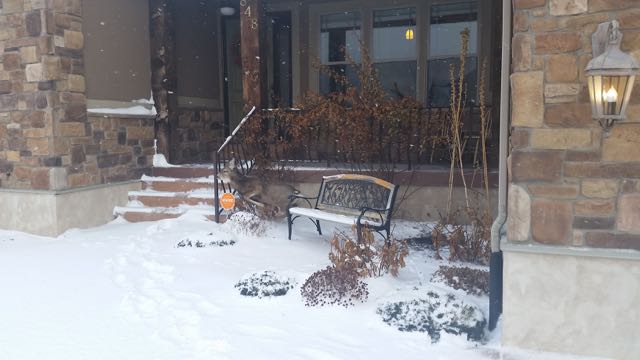 See the brown blur about to run in front of the front steps? That is the deer who has been eating my plants and having diarrhea on my sidewalk. I have chased that deer off so many times. She likes that corner and I'm always running her off. If she kills my roses, she is going to earn a spot in my freezer. We usually have a whole herd of deer living in our yard in the winter, but so far it's only been the one this year. What I really need is a gun.
After a few months of discussion, Brinlee and I decided that she had too much hair for her to handle, so I made her an appointment with my stylist to cut it to a more manageable length.
I was worried she was going to be really sad, but she loved it. She has beautiful hair, and now that it is more manageable it will look so much nicer.