Type 4 moment: One night type 3 husband came home from a business trip. I said hi, but stayed where I was. About 15 minutes later I gave him a hug, told him I'd missed him and that I was glad he was back. He said it didn't seem like it because I'd ignored him when he got home. I said, "I was giving you a few minutes to get settled, put your stuff down, and transition." He asked me why, and I told him because that is what I need when I come home. Turns out, he doesn't need that. He wants an immediate hug and attention the moment he walks in the door. This happened a month ago. We've been married almost 13 years. Dressing Your Truth helps us understand these differences. I need some time and space to adjust, he wants immediate attention. I was giving him what I need, and it was hurting his feelings. It's so automatic for me that I have to really focus on remembering to greet him immediately with a hug and kiss and not "ignore" him, which is how he sees it. I'm working on it, but it will take practice.
I was a little all over the place this week. I went from ski clothes to supreme comfort to ready to kick some butt to PTA mom to resort wear. I also just realized that this week and last week I wore royal/cobalt blue with black or white every single day but one.
Let's skip Monday since we were skiing. Base layer isn't (usually) interesting.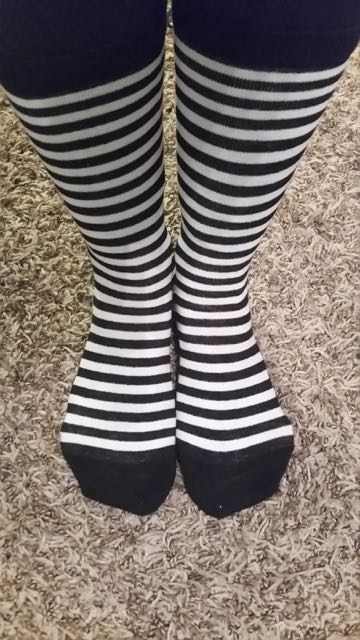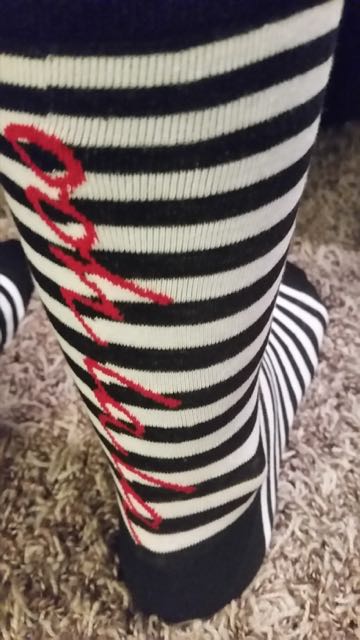 My husband is in Paris and I'm on puke patrol. So many things wrong with that statement. My youngest had a stomach bug. I dressed for comfort, vomit/diarrhea clean up duty, baby loving, and the rain.  For the most part this outfit gave me everything I needed. I wore the scarf for a little extra warmth, but I quickly took it off. I kept having to secure it out of my way while disassembling the car seat my little one threw up in. I just bought this scarf, but this is the sign that I can't wear it. Anything that gets in my way is a no. Too much movement. It makes me crazy. Too bad bc I love the color and texture. If it only came down as low as the top loop it would work. I suppose I could take it apart and shorten it, but I'm not sure I'm willing to do that. I love this bracelet. I don't feel it at all and it fits my child-sized wrists. It never gets in my way, which is rare for a bracelet. The socks read "ooh la la!", and they make me happy because I love all things French, I love stripes, and I love wild socks.The texture of the woven bracelet is the only S3 element.
Earlier in my DYT journey, I realized that I had been swinging way too far to the secondary 1 side of things. I had a lot of cute going on, and I'm not cute. My energy isn't cute. I had been wearing a lot of cardigans during that time, and I shunned them entirely while I was going crazy with the secondary 3 elements. Today proves that cardigans don't have to be cute when I'm wearing faux leather pants, pointy jewelry and shiny, reflective silver flats. I really like this. S3 elements include the dangerous earrings, the studded bracelet, the v-neck in the t-shirt, and the faux leather pants.
This is the complete opposite of yesterday. I want it to be spring, can you tell? These crosses are my version of polka dots. I feel better in this than the sweater with the big polka dots, but I'm still not sure it's me. I'm wearing my pinstripe shirt I love, but this is feeling borderline S1. Maybe it needs some color? I'm not sure, but I didn't feel as good in this as other things I've worn. The crosses are an S3 element, but for some reason this ensemble doesn't resonate with me.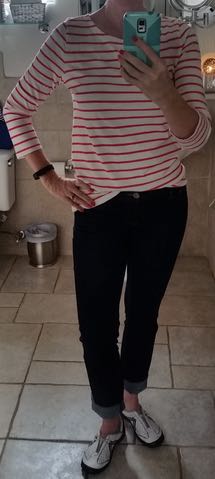 Last night I flew to Palm Springs to meet up with my husband for a romantic weekend. Take me somewhere sunny and 75! It really is spring down here! I can never, ever go wrong with a striped Breton tee and dark wash skinnies. No S3 today.
Gingham shirt+ white studded jeans + red sandals + trench = love. I haven't worn my trench since I started DYT, but I still love it. It is not a T4 color, but it is so classic, and I feel very put together when I wear it. The desert cools down quickly after the sun goes down, and it's still cool in the mornings, so I was very glad I packed this. This is also my first time wearing these sandals I painted from brown to red. The lighting in this bathroom is horrible, but it's the only full mirror there was. S3 elements include the studs on my jeans and the cut out pattern on my sandals.
I'm a minimalist packer, so I only took these jeans and the ones I wore on the flight. I still love this pinstripe shirt, and I really love it against the white jeans and with the trench. You could honestly wear pajamas with a trench and look put together. S3 element is the studs on my jeans, which lit up the security machine at the airport, and I got the full pat down. They swabbed my hands and everything. Clearly I'm dangerous.
To experience Dressing Your Truth and find your personal beauty, click here for the free discover your beauty course.
Disclaimer: When you click through my link, I receive a small credit in the Dressing Your Truth store if you choose to sign up for the full course. I'm not a fashion blogger or a Dressing Your Truth expert. I'm just finding my way.