Oh, but I hate cold weather. I wasn't made for single digit temperatures. I've got cold bones that want to be warmed in the sun. Don't get me wrong, I enjoy having four seasons a year, but I like the winter season to be short and mild, the way it was when we lived in Atlanta. Clearly I live in the wrong place for that. Adam had to go to Palm Springs for a conference, so we went for a long weekend before the conference. Adam ended up flying straight to LAX from Paris and taking a 2-hour Uber ride at midnight. I flew in late from Salt Lake.
We stayed at a boutique hotel called the San Giuliano. It only has 9 rooms. The room we stayed in is called the Velvet Hacienda. The whole property is walled and very private. There is a pool, and private patios with hot tubs. It's nice and quiet.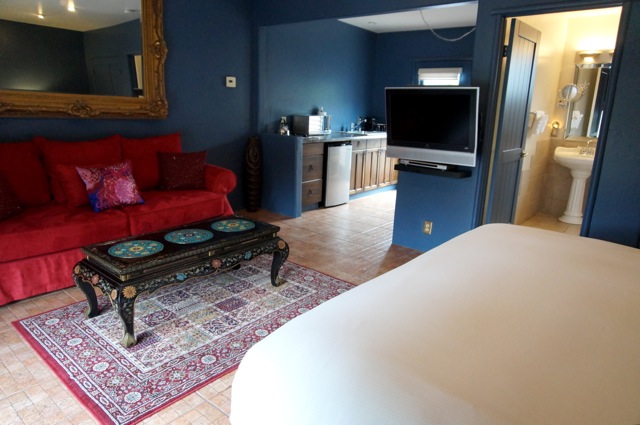 We really enjoyed our stay. It's also just a few minutes' walk to the main strip.
This wasn't one of our typical jam-packed trips. I was exhausted before we even got there, so we took a very slow pace, and I took a lot of naps.
We slept in, which is something my body doesn't really know how to do anymore, thanks to my kids, so this was a rare pleasure. We went for a late breakfast at a French Cafe called L'Atelier, which is owned by a young French couple. It was really good. I had eggs Benedict over spinach and tomatoes instead of an English muffin. They were very accommodating of my gluten-free needs.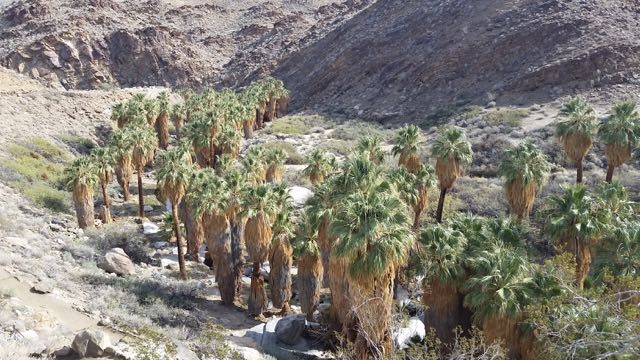 Our first stop was the place I was most interested in visiting, Indian Canyons. I've never seen anything like this oasis. My (not paleontologist) husband kept laughing at me because I think it looks like somewhere Fred and Wilma Flintstone would live. I was hoping for a wooly mammoth ride.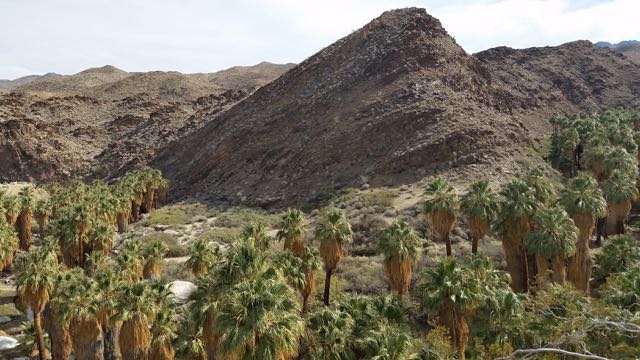 We chose the Palm Canyon area to explore, but there are others that we would like to hike if we come back.
Our hotel was really close to everything, so we decided not to rent a car, and just use Uber if we needed to go farther. This was one of those times, but it was not very far out of town, 10-15 minutes.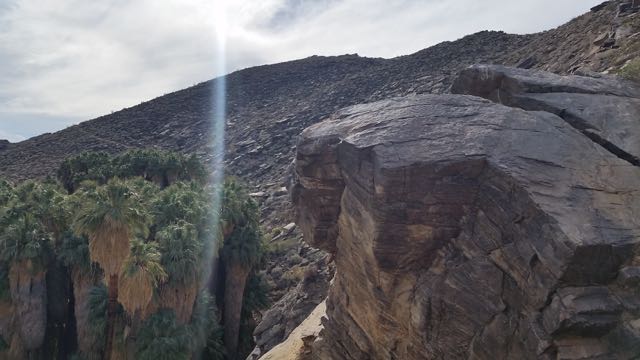 The park entrance fee is per person, instead of per car, but the park ranger was familiar with Uber and didn't charge us for the driver.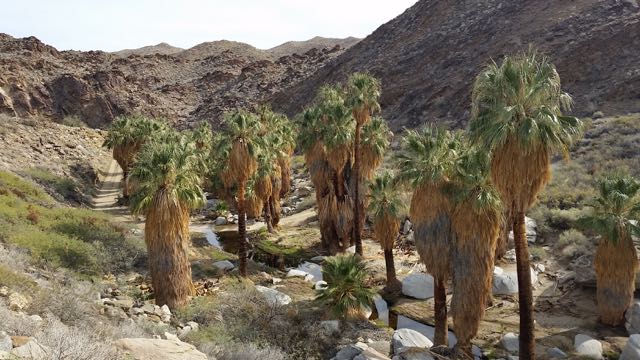 Our driver dropped us at the Trading Post, and there we were approached by a very helpful ranger who recommended a pretty easy 3-mile loop that gave us a good variety of scenery.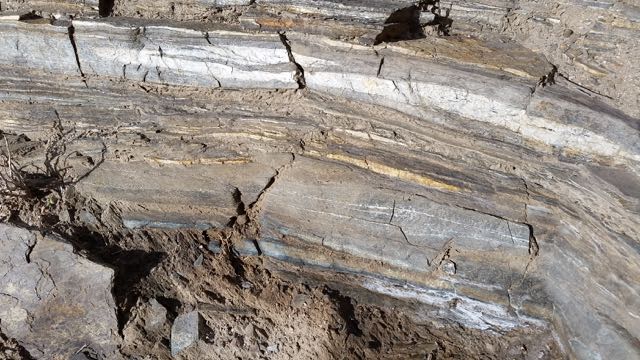 It was a very mild day, perfect for hiking. Since this was an easy hike, athletic wear was not necessary. I've been especially exhausted since Christmas, and physically I didn't have the stamina for anything rigorous.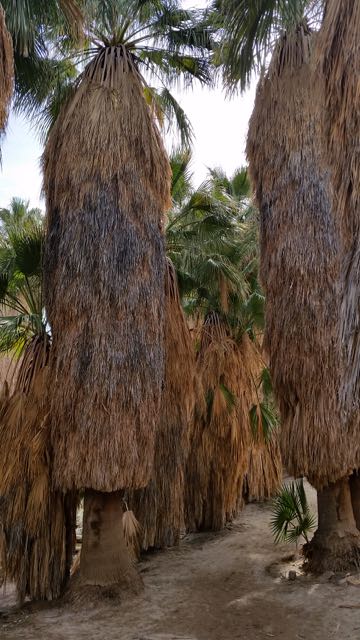 The oasis was breathtaking. As the name indicates, Indian Canyons is part of an Indian reservation.
Even though all of it was fairly easy, I wouldn't do it in sandals. Definitely wear tennis shoes or closed toed shoes with a good sole. I was really comfortable in what I wore on such a mild weather day.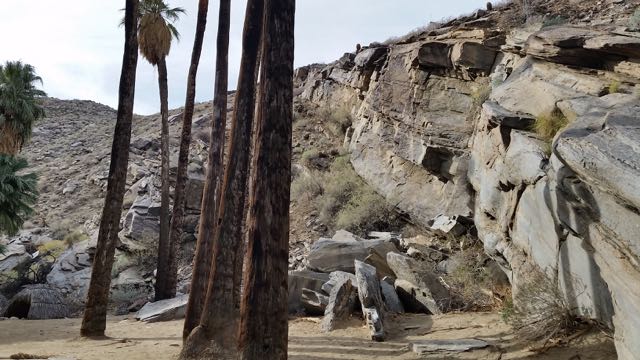 We saw a lot of people wearing serious hiking gear and carrying walking sticks, but they were probably doing the harder hikes. We were there for the scenery and something easy this time. If we go back I'd love to do some of the other hikes, but this wasn't the trip for it.
If you are short on time or energy, just walking around the oasis is worth the time and effort, and very easy.
This hut shows how the indians previously lived here.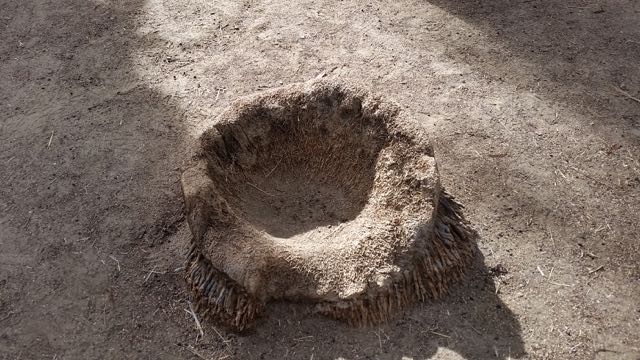 A prehistoric potty. I asked Adam to pose for me, but he refused. Party pooper.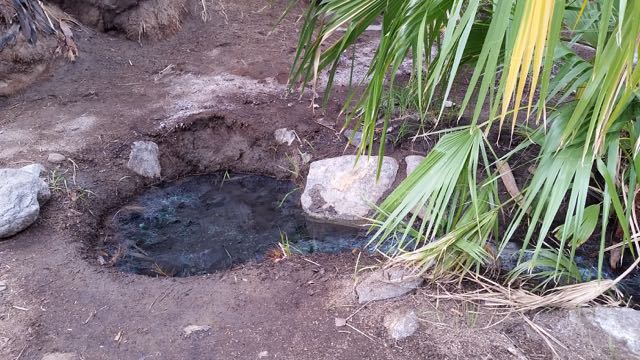 The water source comes up out of the ground in various places.
We left the oasis and went up along the ridge line for a view of the valley.
I tried to convince Adam this was a fossilized dinosaur foot.
Some people who were also hiking this trail just blew past us like it was a race.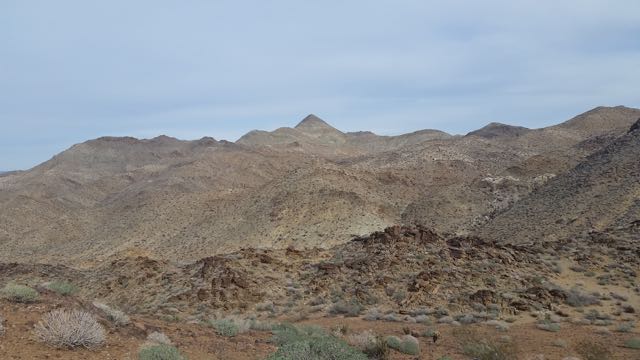 I was more interested in taking in the view. This place is spectacular. Maybe they were locals who do this hike a lot.
Adam was on a work call while we waited for our car to pick us up, so I was on the look out for our driver. I saw someone driving slowly, alone in the car and scanning the parking lot. So I walked over and said, "Are you an Uber driver? Are you looking for Adam?" He said yes, so I flagged Adam to come over, and then the driver said, "My dear you offend me. I'm with Lyft. I'm not with Uber." Sorry. I didn't know which company he called. For some reason the Uber app was acting up, so he used the other one.
Travel tip: Personally, I prefer Uber. They are more professional and the cars seem to be nicer. The drivers always come around and open the doors, they offer water, access to phone chargers, the occasional candy, etc. The Lyft drivers are more casual and don't seem to go for those small extras. However, it's beneficial to have both apps on your phone because Uber has started doing price surges when demand spikes. Not cool, Uber. Not cool. Also, glitches happen like it did that day. The Uber app wasn't working that day, so Lyft saved the day.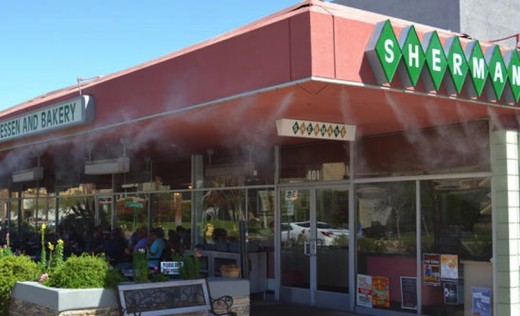 By the time we were done with our hike, it was late afternoon, and we were hungry. We headed back to the strip for a late lunch. We went to Sherman's Deli, which is the Palm Springs version of Carnegie Deli.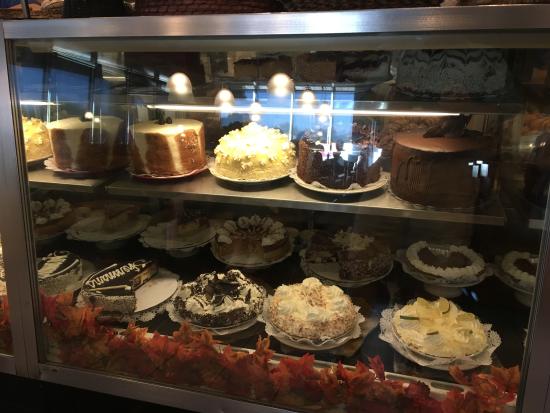 They have a dessert counter that will make you want to forget about your meal and go straight to the good stuff. We had plans to come back and try a few things, but never made it. After lunch we walked around a bit, and then we went back to the hotel so I could have a nap.
Once I woke up we went for sushi for dinner. We sat at the sushi bar, which we don't usually do, but the place was packed, and we were lucky to be seated right away. It is so fascinating to watch the sushi chefs at work. I was watching them so intently I was making one of them very uncomfortable. He thought I needed something or was unhappy. He kept asking if he could help me. I didn't need anything, I was fascinated with their work. After dinner it was back to the hotel for more sleep. I slept a lot this trip.
The next morning we got another Uber and went to the Parker Palm Springs hotel for breakfast at Norma's Diner. When we arrived they assumed we were there for the Bentley breakfast. Apparently Bentley, as in the car makers, was hosting a conference at the hotel. That explained all the Bentleys parked out front.
We got there early-ish, like 8:30, and we were seated immediately. When we left there was a wait. We chose to sit inside because I'm so cold natured and the air was still brisk, but just look at that gorgeous patio!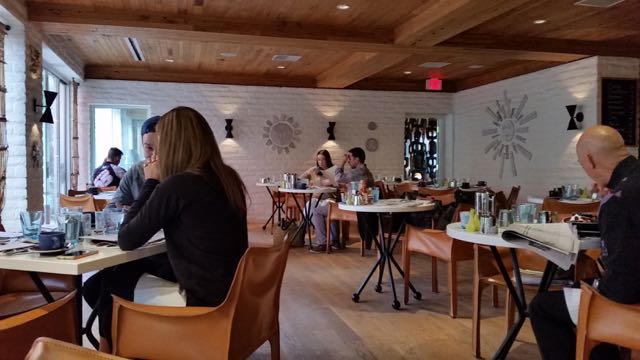 Breakfast was fabulous. The food was fantastic, the service was wonderful, the ambience is smashing both inside and out. You can have brunch all day every day here.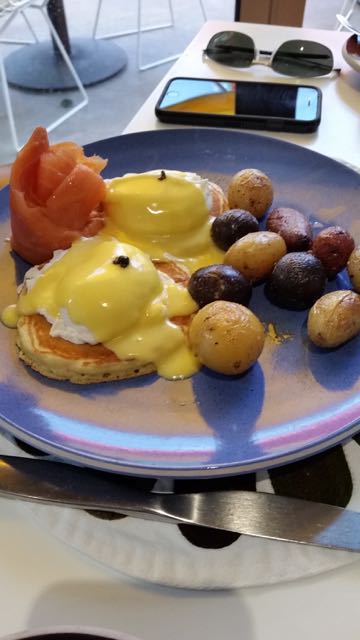 We both had the Upstream Eggs Benedict with smoked salmon. The only part of breakfast that wasn't that awesome was the hot chocolate. It was basically hot chocolate from a mix. It was served in a pot, so the presentation is nice. It wasn't BAD hot chocolate, but it wasn't anything special. Breakfast is on the expensive side, but the quality matches the price, so worth it if it's in our price range. My eggs Benedict was $25. Not bank breaking, but not the $8 breakfast from the day before, either. I certainly didn't order the most expensive thing on the menu, which would be The Zillion Dollar Lobster Frittata for….$1000. That's not a typo. Let me spell it. One. Thousand. Dollars. American dollars. Not Pesos. Is there a thousand dollars of lobster in this frittata? No. There is a thousand dollars of caviar. 10 ounces, actually. Who on earth eats 10 ounces of caviar in one sitting? Especially at that price. If you're only in the mood for one ounce of caviar, the price of your frittata drops to a very reasonable $100. That's a bargain, folks. You can see the breakfast menu here.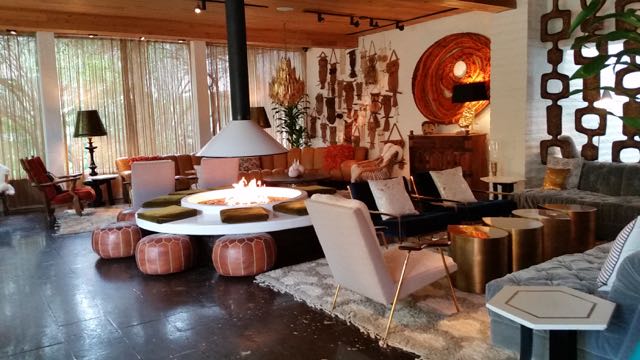 A trip to The Parker is definitely worth it. This is where the celebrities stay. We did see some while we were eating breakfast. One even came down to Norma's in his robe, which I don't understand, but I'm not a celebrity. I just play one at home.
I don't usually go gaga for the retro thing, but this hotel's decor is just perfect.
Not only is the interior awesome, but the grounds are spectacular. 13 acres of this. We saw croquet, tennis courts, swimming pools, hammocks, bocci ball, bike rentals, a lemonade bar, and a lemonade cart powered by a bike to bring the lemonade to you. If it hadn't been so chilly, I would have been all about that lemonade. The whole place is really fantastic and designed to entertain.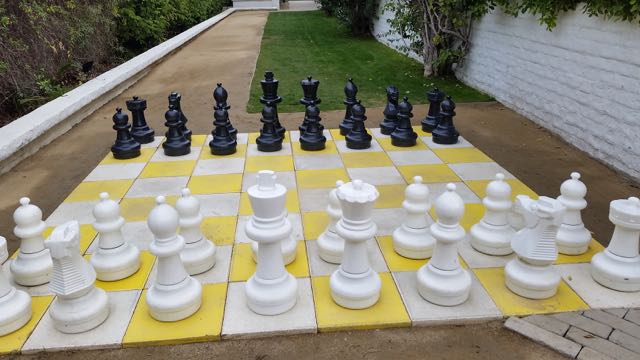 When we came across this chess board, Adam decided to teach me to play. I decided to put one of these in our backyard this summer. Our kids are great chess players.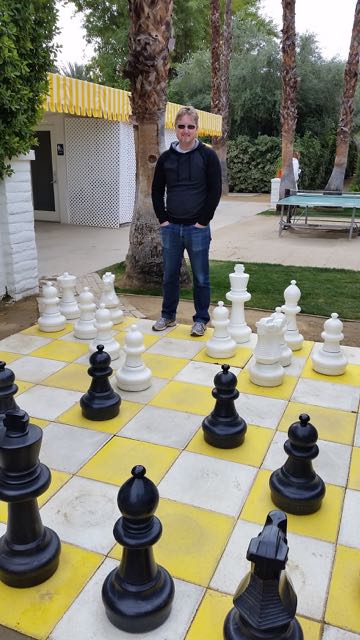 I lost the game, but I fought to the very end. When I told the kids about our game, they said, "Mom, did you lose?" Why do you assume that? "Nobody beats Daddy." That's true.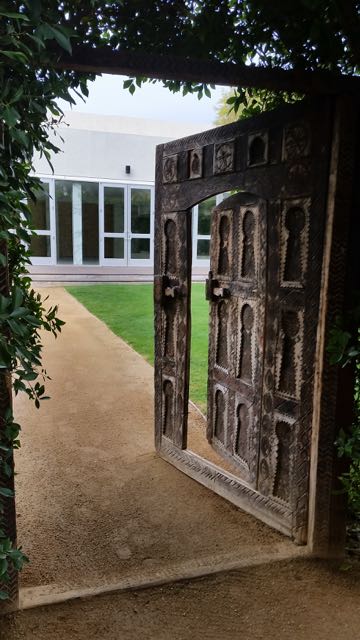 This door.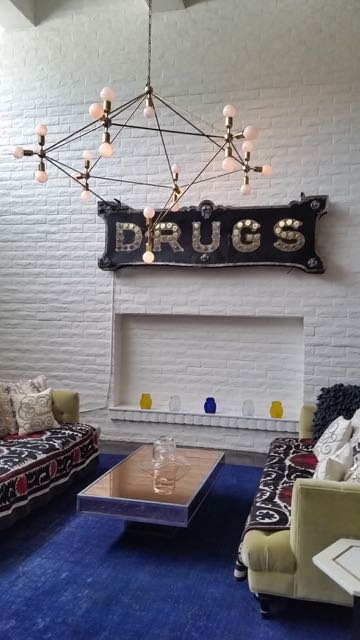 Of all the fantastic decor, why, why, why this sign? There is nothing positive, kitschy, amusing, cute, nostalgic or ironic about it. It may be true, but not all true things need to be advertised. The look of the sign is awesome. A different word would have made it awesome.
After a nice stroll around the grounds and hotel, we went back to our hotel to get ready, but I really didn't feel great. My body decided to take a nap.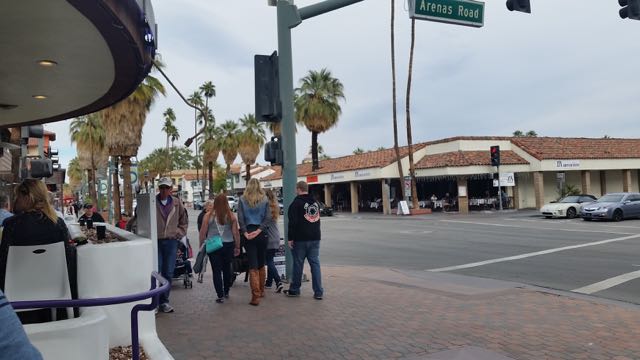 When I woke up we went for lunch and walked around Palm Springs some more. We got an Uber car to go ride the Palms Springs Aerial Tramway. When we got there at 3:00, they told us there was a huge group that had just showed up from some golf tournament, and the next available tickets were at 5:00. Since we had dinner reservations at 6:00, we decided not to push it.
We went back to our hotel to relax and enjoy the private patio and hot tub with our room instead. It was one of the main reasons we chose this hotel. The water and weather were perfect. It was nice, quiet, private, and relaxing.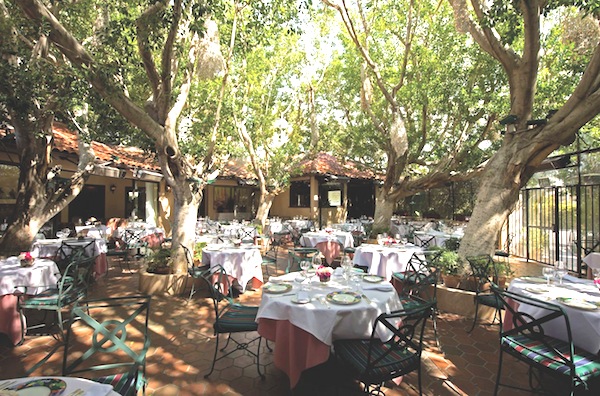 That night we had reservations at Le Vallauris, the number one restaurant in Palm Springs. It is a fabulous, romantic restaurant, and you definitely need reservations. The waiter comes by your table with the menu on a chalkboard and sets it up on an easel for you to be able to look at it while he goes through the whole thing. We had a very enjoyable evening.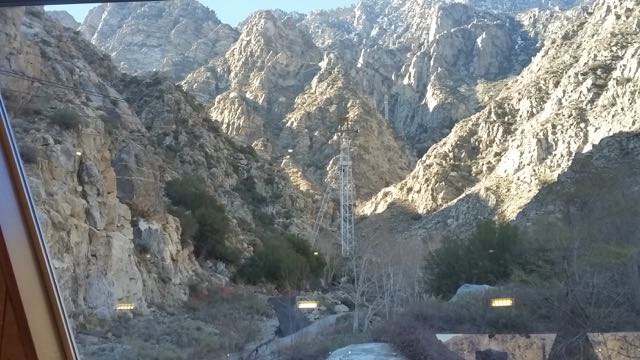 The next morning we did the one thing that was left on my list of must dos before my noon flight home. We went first thing in the morning and got there just before a bunch of tour busses unloaded. Yikes! We only had to wait 20 minutes.
The very cool thing is, as long as you are by a window, you have the best seat BECAUSE, the tram rotates the whole way up. It's very slow, so it shouldn't make you sick, but you will get to see everything.
When we went up, there were a few different groups. There was a business conference in town and they were taking their people up in groups. In fact, we joined Linda's group on the way down.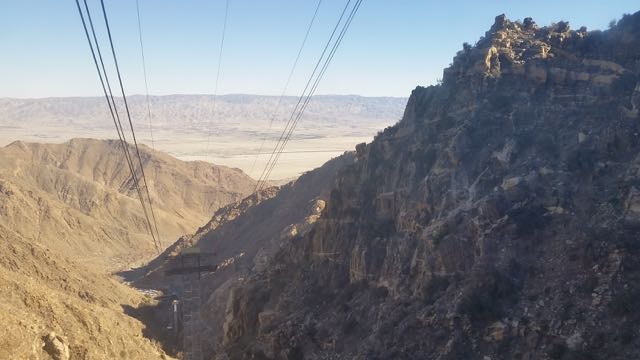 There were tour bus groups
And then there were the locals. The locals had a very different purpose. They were all dressed up for snow play. They had their sleds, which is good because there were signs everywhere saying they were all sold out of sleds at the top. All the parents were busy putting on their kids' snow gear while they waited for their tram time. This is not the sledding hill. Up top there aren't really hills for sledding. Lucky parents get to tow their kids around on sleds on flat ground.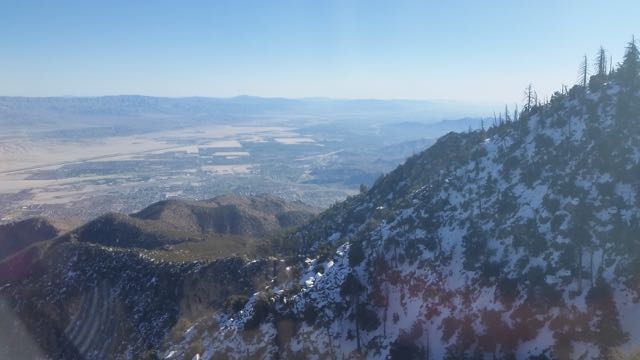 They were there to escape all the perfect weather down in the valley. By ascending over 6,000 feet, the temperature drops 30-40 degrees, from balmy and perfect to a winter wonderland.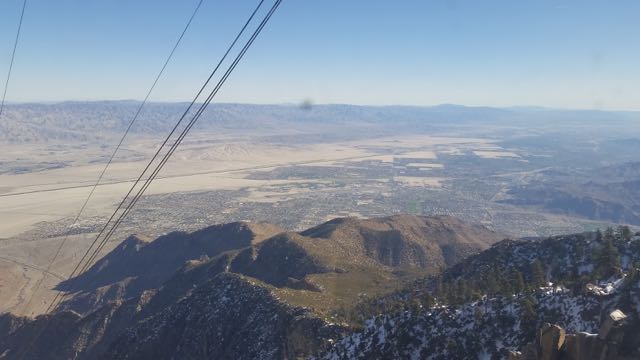 In the summer they understandably go up there to escape the triple-digit summer desert heat, but people, seriously, I came to Palm Springs to GET AWAY FROM THE COLD AND SNOW. I'm just here for the ride and the view.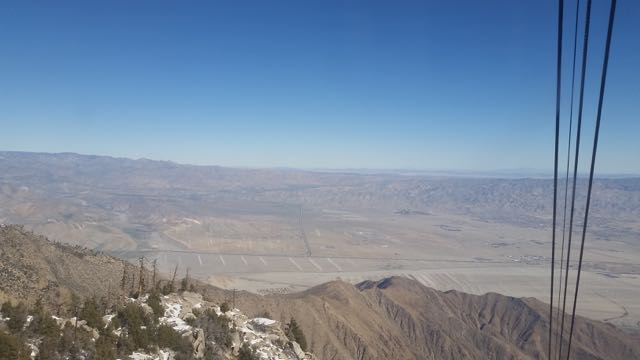 There are lots of hiking trails up there, which would be tempting in the summer, but not today.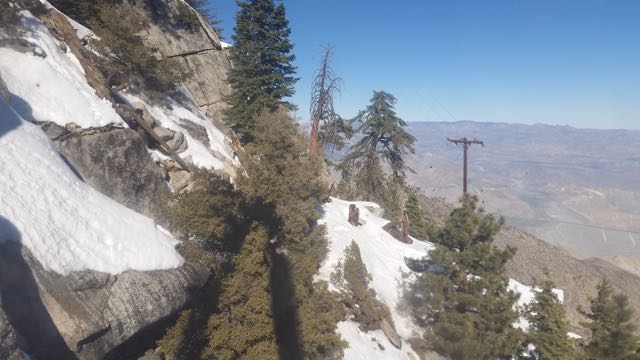 The ride up is about ten minutes.
We got to the top, took a couple of pictures from the look out points and got in line to leave. Even if I didn't have a plane to catch, I had no desire to be in the very weather I came to Palm Springs to escape. I can get this experience in my own yard.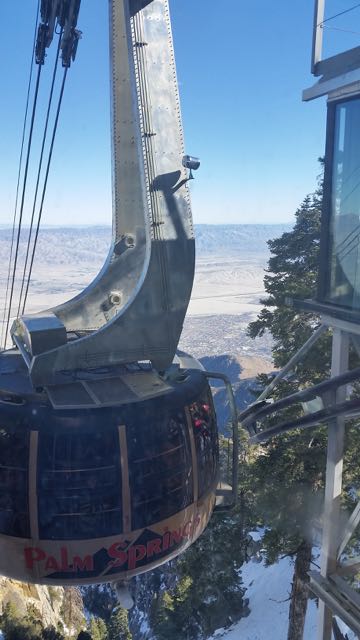 The very nice guy in charge of boarding the tram let us go back down with Linda's group when we told him I had a plane to catch.
Travel tip: This is important. If you take an Uber car to get to the aerial tram, you should know there is no cell reception at the base, or even at the guard station down the road. When you want to call your car, your only hope is at the top, right as you get on the tram to come down. Your ride is probably in town anyway, and the timing should work out perfectly. It did for us.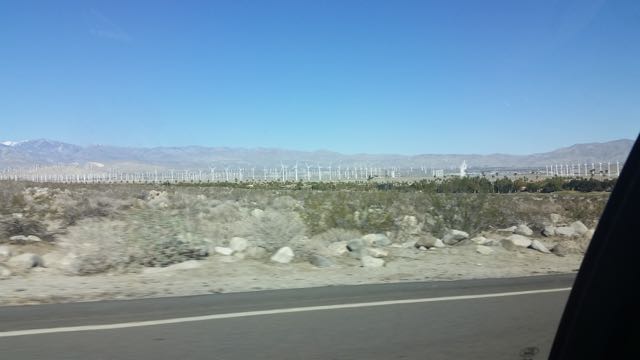 Our driver took us to our hotel to grab the bags and then on to the airport. Adam stayed for the conference, and I went home much better rested, which is unusual for one of our trips. Palm Springs in January was just what the doctor ordered.